08 March 2023
Embracing Gender Equity this International Women's Day

Every year on this day, the 8th of March, we celebrate International Women's Day to uphold the values of women around the world and to shine a light on the gender inequalities that still persist today. But what if we have been looking at it wrong and instead of striving for gender equality, we should first aim to achieve gender equity. This is what this year's theme is about, how we all can #EmbraceEquity in our daily lives but also at an international level. 
What is the difference between gender equality and gender equity? Equality means that both men and women are given the same opportunities and resources to succeed. In theory, having gender equality should balance out the scales and allow women to have equal opportunities to succeed in life. However, equality assumes that all women across the world begin life in the same place as men. But in reality, we know that this isn't the case. 
Gender equity acknowledges that women are born with a different set of circumstances in comparison to men, whether they be cultural, societal or political. Equity is the path we need to take in order to achieve equality, as it allocates resources and opportunities based on fairness and impartiality. This means women are afforded different possibilities than men so that one day they can both start life at the same place.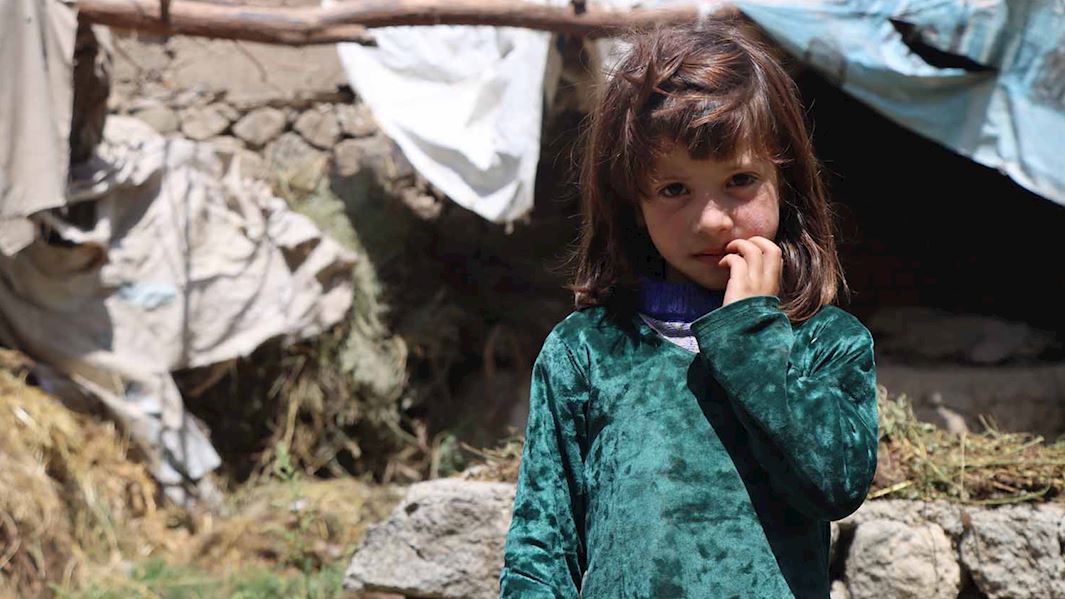 What causes gender inequity? 
Now that we know the difference between equality and equity, how do you start to level out the playing field and begin to give women equitable resources? This requires tackling the cultural and societal norms that cause gender inequity. This discussion could be an article in itself but here are a few economic barriers that effect women at a global scale but particularly women in developing countries: 
Low wages – Around the world, 700 million fewer women than men are paid in work. The gender pay gap persists in developing and developed countries alike. Currently, women make 24 percent less than men and at the current rate of progress it will take 170 years to close that gap.

 

Lack of decent work – In developing regions, 75 percent of women work in the informal economy. This is a section of the working world that will give you a service in exchange for money but do not have employment contracts or legal rights and often make too little to escape poverty. An example of this type of work is a street seller. Currently, 600 million women are employed in the most insecure and dangerous forms of the informal economy.

 

Unpaid versus paid labour – In many cultures, women do the majority, if not all of the caregiving and housework tasks. Although not paid, the value of this work is estimated at $9 trillion dollars a year.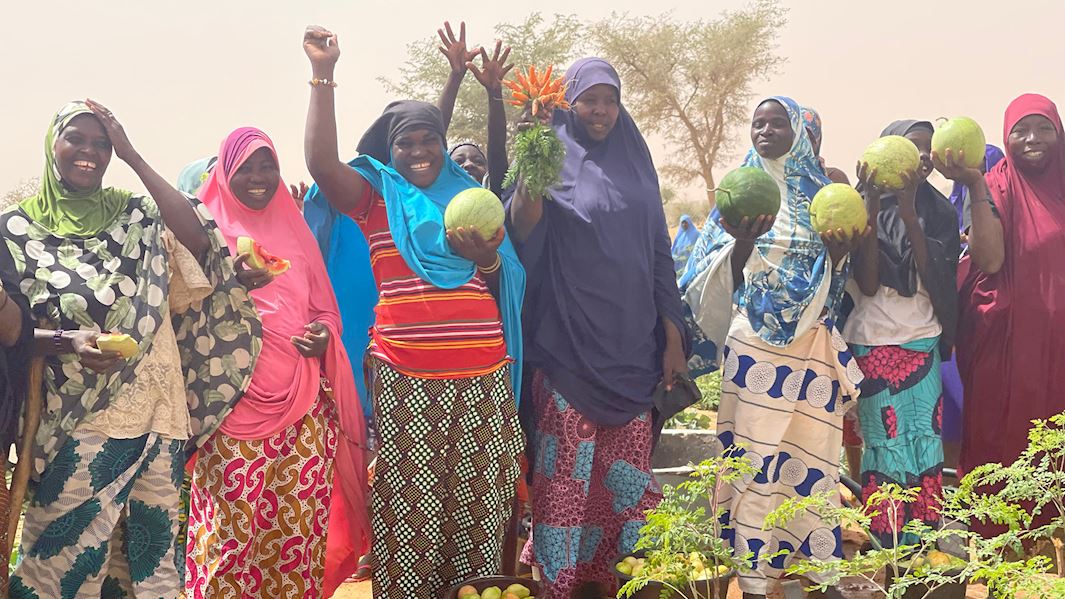 How is Muslim Hands

Embracing

Equity?
For 30 years, Muslim Hands has been serving the needy and at the forefront of needs-based poverty reduction interventions. Many of these projects have responded to both men and women such as the installation of tube and water wells in rural communities, providing orphans with a free and high-quality education and providing climate-based solutions to communities suffering from the impacts of climate change. 
However, we also run female-centered projects in struggling communities that have given women the tools to generate their own income and bring their families and by extension their communities out of poverty. The success in these projects is rooted in female empowerment and the women's want to provide for themselves and their families. These projects include: 
An agricultural project in Niger combatting food insecurity, giving women

the tools and knowledge

to use their farmland to the best of their abilities.

 

A sewing skills program in Somalia, a training program that teaches women the skills

to become a seamstress

and gives them a sewing machine so they can start to generate their own income.

 

A livelihood program in Pakistan that gives

women the skills they need

to begin generating an income for their families and begin earning above the poverty line.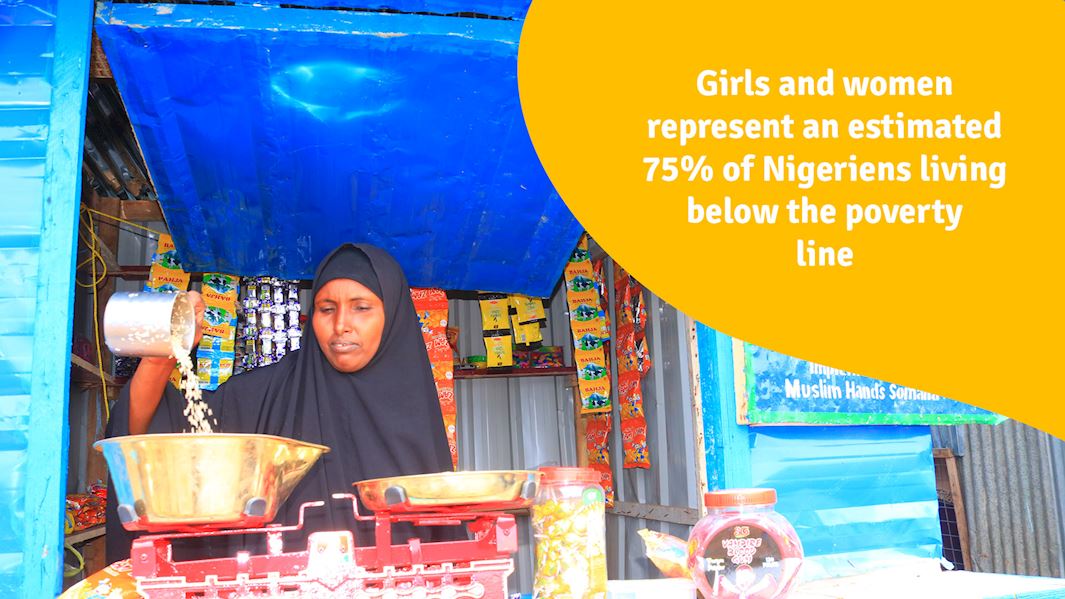 The Problems Facing Women and Girls in Niger 
Niger has been rated by the UN as one of the poorest developing countries in the world. A landlocked country in the north of Africa, approximately 80 percent of Niger is covered by the Sahara Desert. The population of 25 million mainly depend on agriculture to generate income. However, the country experiences frequent droughts with rainfall falling by 78 percent in 2021 which has led to significant decrease in crop yields. This and the rising cost of food prices has resulted in increased food insecurity and more than 10 million people, 41.8 percent of the population, living below the poverty line.  
Women and girls in Niger suffer the most. Currently they represent an estimated 75 percent of Nigeriens living below the poverty line. Many are unable to work as societal norms dictate that women are homemakers and stay at home with the children. Opportunities for women to earn an income are very slim as the adult literacy rate for women is only 14 percent, compared to 42 percent in men.  
In some parts of the country, girls that have the opportunity to attend school are at risk of sexual harassment and violence due to the increasing conflict on the borders of Burkina Faso and Nigeria. Research carried out by the International Organisation for Migration determined that women and girls made up 69 percent of survivors of human trafficking in Niger. Of those survivors, 37 percent were girls under the age of 18. 
Promoting Livelihoods in Rural Niger  
How are we tackling these issues? In rural Niger, Muslim Hands have identified women who are the head of their households but do not have the skills to earn a meaningful income for them and their children. Our intervention is dedicated to helping female farmers improve their knowledge around modern farming practices, while also providing the essential equipment including seeds, fertilisers and machinery to help them increase their crop yields. 
Before this project, Sahada and her family lived in extreme poverty and were on the brink of starvation. Her husband was sick, and they depended on the cultivation of their land for an income. However, the land was dry due to insufficient rainy seasons, so Sahada, her husband and eleven children depended on the generosity of their community. Yet, in their village 86 percent of the community is living in poverty, so they do not have much to give.  
Since then, Muslim Hands' Sustainable Livelihood Program has given Sahada the skills to produce crops that will survive during the dry season, such as watermelon. It has also given her the knowledge to use the farming land effectively during the wet seasons when they get to produce crops such as soybeans and tomatoes. Now Sahada and her family are no longer starving as they can live off the crops they produce and sell their surplus produce at the local markets.  
This program has had a mutually beneficial impact on the community as a whole, as the needs of women throughout the village were identified and they were given the knowledge and equipment they needed to generate a sustainable income for their families.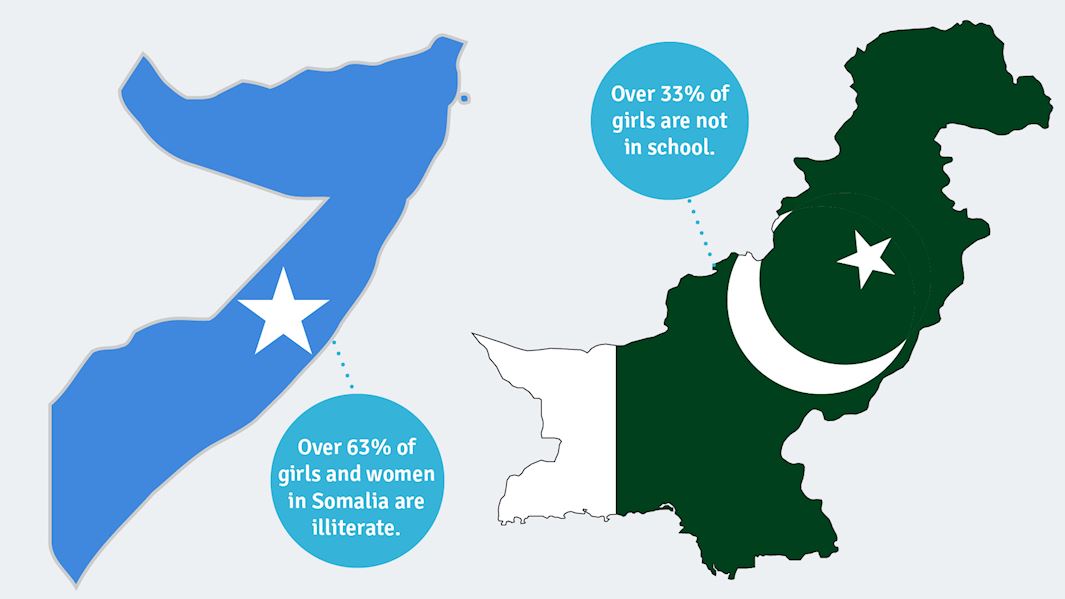 Somalia and Pakistan: On the Brink of Collapse  
Somalia is experiencing its worst drought in 40 years. They have just experienced their fifth consecutive failed rainy season and are on the brink of famine. With a population of over 17 million, 73 percent of people experience poverty. Food insecurity is rampant across the country, with 7.1 million people facing acute food insecurity and 213,000 experiencing catastrophic hunger. 
Life for women and girls is not easy. The ongoing drought has destroyed agricultural livelihoods and forced thousands of women and children to flee their rural villages to the Internally Displaced People (IDP) camps in Mogadishu. They cross thousands of miles with the hope that they will receive water and food from international aid organisations there. However, they have no means of income in the camps and young girls are unable to receive an education. Currently, over 63 percent of girls and women in Somalia are illiterate. 
Poverty in Pakistan paints a different picture. Pakistan has one of the largest populations in the world, 231 million people, which has led to overcrowding becoming a serious problem. Currently, over 38 percent of Pakistan live in extreme poverty, that is 87 million people. Although Pakistan has made valuable attempts to reduce their poverty rate, the recent 2022 Floods have devastated the country and affected over 33 million people. 
When tragedies like this occur, women and children are often the ones to suffer the most. Focused on finding shelter and food, education of young girls often gets left behind. Even before the floods, over 33 percent of girls were not in school and were homemakers instead.
Our Sewing Skills Project for Women 
In Somalia, Hawa, a 23-year-old divorced mother with one child lives with her elderly mother. She receives no support from her former husband and depends on the generosity of her relatives. However, her family lives in a rural community and have lost their livelihoods to the drought. Before the project, Hawa had an occasional income when she could find cleaning jobs. However, she could not find anything permanent as she was married at a young age and dropped out of school when she was 12 years old. 
Currently, Hawa is participating in a tailoring course administered by Muslim Hands, which is teaching 30 women, who are the heads of their household, how to sew and tailor clothes with the objective that they will become self employed by the time the course is finished. Hawa is hopeful for her future and thankful that she is gaining this new skill and will be able to bring in a stable income for her family. 
'I'm very optimistic that by the end of this tailoring course I will begin working by myself using this sewing machine.'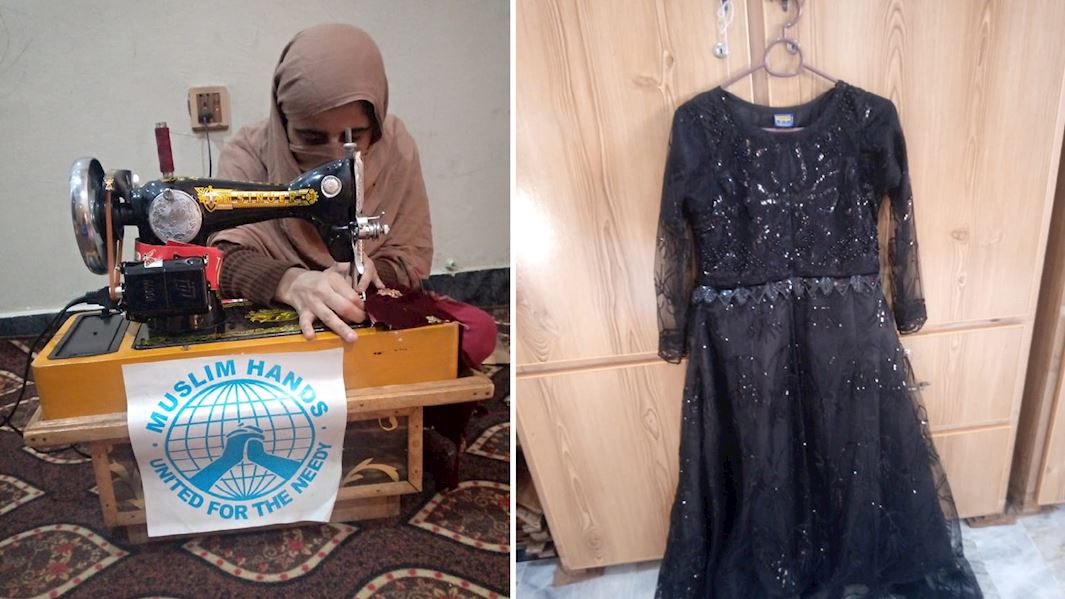 Meanwhile in Pakistan, Salma and her family were living below the poverty line. Salma lived with her elderly and sick parents and two younger brothers, who dropped out of college so they could work and provide an income for the family. Still, they were unable to meet their basic needs and were living in poverty. As they were unable to purchase a house, they had to rent somewhere with only one bedroom, which took the majority of their income. 
In 2020, Salma achieved her certificate in Tailoring from the Government Technical & Vocational Center in Gulbahar Peshawar. However, she could not afford a sewing machine and so she took care of the daily household needs while her brothers went to work. 
Two years later in 2022, a livelihood project was established in her area by Muslim Hands, which taught women important skills they would need to generate an income and become self-employed. For Salma this project gifted her a sewing machine, which she was quickly able to put to good use as she was already a certified seamstress. Now, she contributes to her family's income, and they can afford the daily necessities and also the medication her parents need to get better.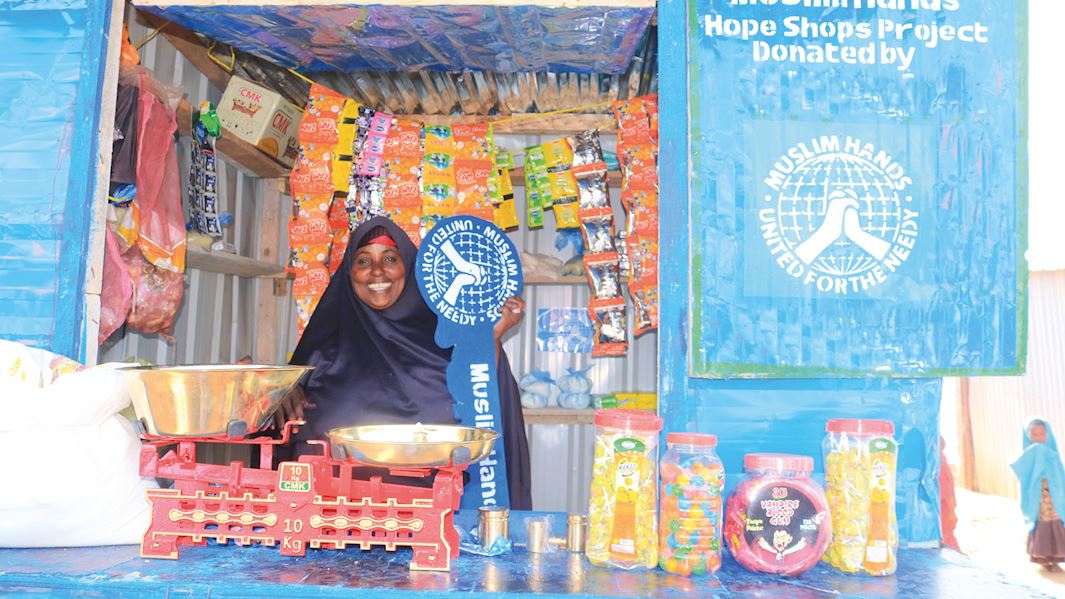 How to Support on International

Women's

Day
Gender equity is the path we need to take to one day reach gender equality, so that when men and women are given the same resources and opportunities, both groups will have as much to gain from them. Until then, we must #EmbraceEquity and support female-centered initiatives that focus on the individual needs of each woman, instead of a one size fits all approach.  
This International Women's Day, consider supporting any one of our livelihood programs, whether that be giving a woman the opportunity to participate in our sewing training courses, or giving women in rural communities access to modern farming equipment.  
You can also support women in a variety of different ways including: 
---
Facebook

Twitter

Email This