21 July 2023
Qurbani 2023: Your Generosity in Action

As a new year begins and we enter the sacred month of Muharram, we find ourselves reflecting on the immense blessings that Dhul Hijjah and Eid have brought us. Alhamdulillah, you made sure that it was a time of devotion, reflection and acts of selflessness. We extend our heartfelt gratitude to our generous donors who, through their donations, enabled us to bring the joy of Qurbani to the lives of those who could not afford to make a sacrifice themselves. 
In the spirit of Prophet Ibrahim's unwavering obedience and submission to Allah (swt), you helped us to uplift the lives of those less fortunate and ensure that the blessings of Eid reached every corner of the Ummah. We are humbled by the overwhelming support and response we received from you this year. Your compassion and generosity have made a tangible difference in the lives of countless families. 
The

Benefits of Your Qurbani
This year, you made sure that over 20 locations received a Qurbani sacrifice. Here are the stories of some of the lives that you helped to change in the Cox Bazaar refugee camps in Bangladesh, famine-stricken Somalia and in impoverished areas of Pakistan.
Living Through Tragedy: Almas' story of survival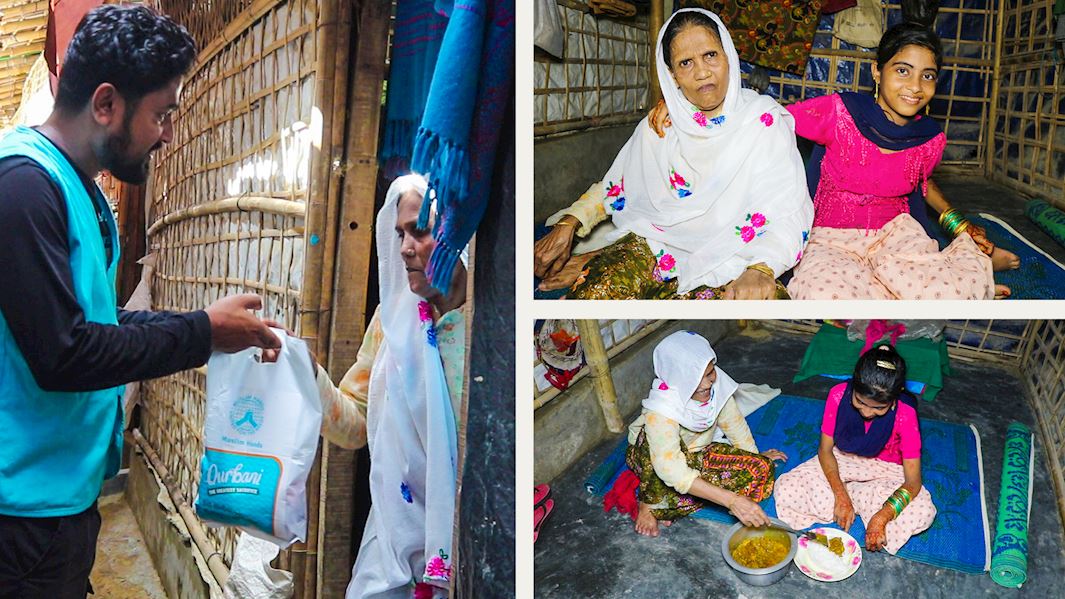 Now almost 60 years old, Almas is living in a makeshift shelter in Cox Bazaar with her 16-year-old niece, Dolu. Her life was uprooted when she was forced to flee with her family from their affluent life in Myanmar to seek refuge in Bangladesh. However, she was one of the only members of her family to survive the perilous journey, while her husband, mother and sister succumbed to hunger and exhaustion. 
Almas and Dolu are struggling to survive in the refugee camp as employment opportunities, especially for women, are scarce and their precarious living situation has meant that they are at constant risk of homelessness. For these reasons, they are completely reliant on aid which has left them with nutrient deficiencies as there are rarely sources of protein such as meat or fish in the packages they receive. 
As Eid al-Adha approached, Almas did not know how she was going to prepare a festive meal for herself and her niece to enjoy. Restricted by the limited availability of food in the camp, they had resigned to their fate of celebrating without a nutritious meal this year. However, thanks to your generosity, their spirits were uplifted as they received the long-awaited beef you donated through Muslim Hands.  
Overwhelmed with gratitude, their celebration of Eid took on a new meaning as they enjoyed a meal of meat, a precious luxury they don't often get to enjoy. 
A Glimmer of Hope this Qurbani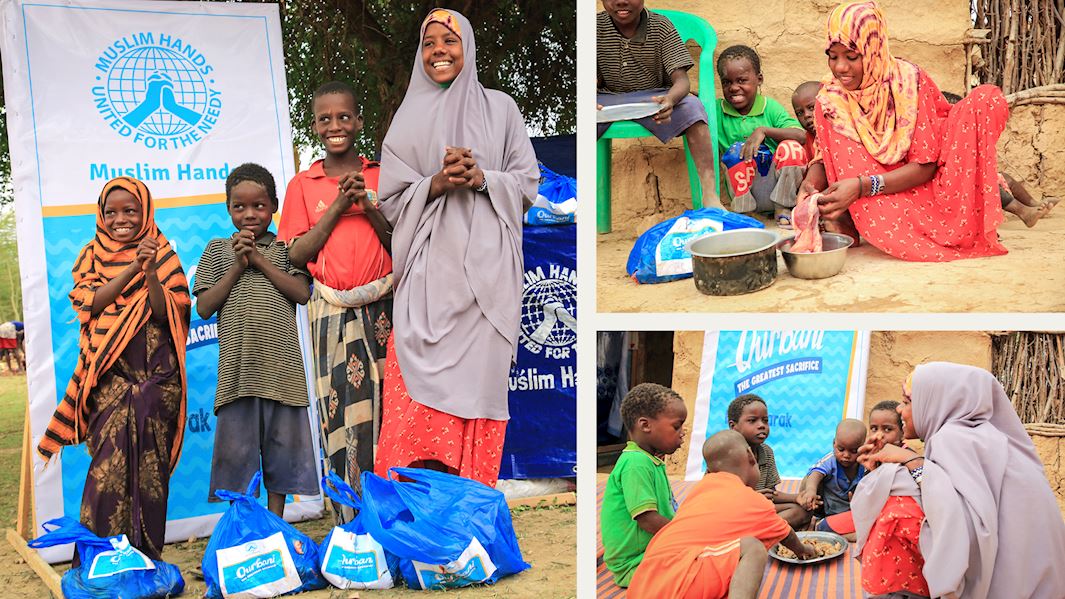 In Qarsoon village just outside of Beledweyne, Somalia, the effects of four consecutive failed rainy seasons have brought unprecedented hardship to Ribax, a 16-year-old girl who has become the sole guardian for her four younger siblings after losing both of her parents three years ago. The family also lost their home and their livelihood in the recent flash flooding that devastated the area. Now, they live in a makeshift hut made out of animal waste and sand. 
She is the primary breadwinner, working as a farm hand in the nearby town of Beledweyne. She earns less than $2 per day to support her siblings. 
'Before this intervention, my siblings and I could not have meat to eat for the day of Eid.' 
In the midst of their struggles, Ribax and her family received a glimmer of hope through the Qurbani that you sacrificed on their behalf. This intervention enabled them to enjoy the taste of fresh and delicious meat during the days of Eid. This gave them the opportunity to celebrate, share happiness, and make this year's celebration truly special and memorable. 
Qurbani in the Midst of Financial Hardships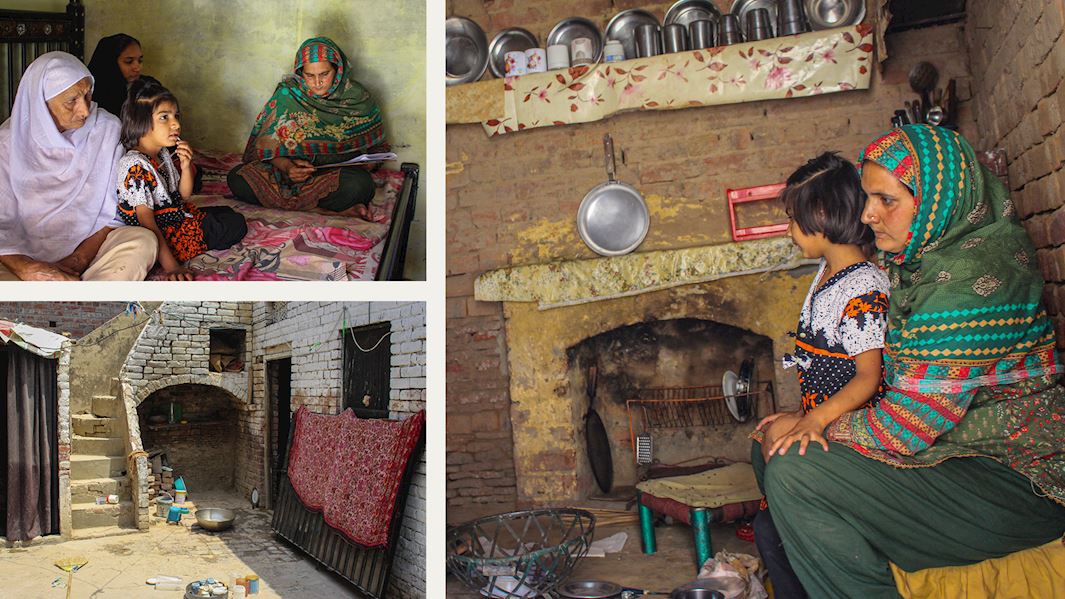 In Pakistan, 30-year-old widow, Musarrat, is navigating the difficulties of financial hardships while she is raising her family. She lost her husband to cancer over a year ago and since then has been struggling to afford basic necessities for herself, her children and her mother-in-law. Currently, she has no steady income, only working in other people's homes when the opportunity arises. As she is unable to pay the rent every month, she has to deal with the constant threat of eviction. 
They rely on occasional assistance from relatives and neighbors to help them when they are in dire need, however this is a rare occurrence as they often do not have money to spare. As the days of Eid approached, Musarrat knew that she would not be able to provide a nutritious meal for her family in celebration. 
'My children will eat meat in front of my eyes, and this will provide me with inner satisfaction.' 
Through your support, Musarrat and her family received 3 kg of meat, bringing them immense joy and relief. She expressed her happiness, knowing that her children would have the opportunity to enjoy meat and have healthy, balanced meals. This support offered a glimmer of hope during times of financial difficulty. 
How You Can Continue Supporting Muslim Hands
Your donations have become a lifeline, instilling hope and reminding individuals that they are cherished members of our community we haven't forgotten. Even though Eid is over, there are still ways you can continue to give back to these communities and to communities here in the UK that are struggling. 
As Muharram, the first month of the Islamic year, begins, here are a few ways for you to give back: 
Join the fight against malnutrition and become one of the Blessed 12,000. By giving just £10 to our bread factories in Syria and Yemen, you will feed 140 widows, orphans and displaced people a month.

 

Help us rebuild houses in Pakistan, provide emergency food to those living through famine in Somalia or support Rohingya refugees in Bangladesh.

 

Just £35 is enough to provide 10 meals to those unable to put food on the table in the UK through our Open Kitchens. Make sure your neighbours have food to eat during the cost-of-living crisis.

 
Are you looking for more ways to give? Sign up to receive our emails, where we are currently sharing tips and motivational advice every Friday to help you maximise the rewards of your charity throughout the summer months. 
---
Facebook

Twitter

Email This