24 March 2023
Why Should You Donate to Muslim Hands?
You've found yourself on the Muslim Hands website. Maybe you clicked on an ad or a link somewhere, or perhaps you Googled us and now you're here. You might be thinking, 'What makes Muslim Hands so different from the endless list of other charities?'
We understand that choosing the right charity for you can be a difficult task. There are so many things to consider. To help you decide, we've compiled a simple list to explain who we are, what we do and (cliché as it sounds) why we are different. Have a read and see why Muslim Hands is the charity for you!
1. We have 30 years of experience – but we started out small
Muslim Hands is a fully registered charity (Registration Number 1105056) and we now have 30 years of experience in delivering aid to those in need. But we started out small.
In 1993, we mobilised the local community in Nottingham to send aid to the people of Bosnia, moved by the plight of our brothers and sisters. Since then, we have expanded our reach to over 30 countries, delivering your amanah (the trust you placed in us to distribute your donations) to the people who really need it.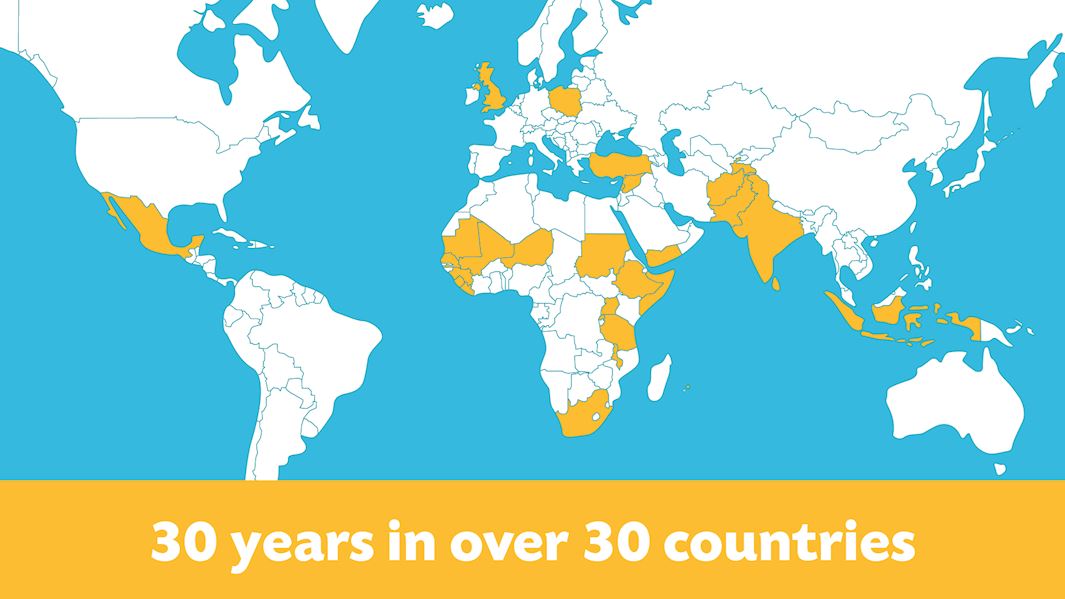 We are much bigger than we started out, but we still have a grassroots ethos and we don't want to forget our roots. We still rely on individual donations over and above institutional support and our volunteers are at the heart of what we do. 
Alhamdulillah, we have grown completely organically, as Allah (swt) continued to give us more opportunities and expand the Muslim Hands family. 
2. We are helping more people every year
As your donations have increased year-on-year, the number of people we can help has also increased. In 2022 alone, our generous donors:
Gave clean drinking water to over 

2.1 million 

people, by constructing water wells, rainwater harvesting systems and water filtration plants.
Increased our capacity in our Open Kitchens so that we could meet the rising demand for our services as the impact of the cost-of-living crisis took effect.
Provided emergency relief to 3.5 million our brothers and sisters that had been hit by catastrophic natural disasters.
You can see more details in our Annual Reports here and on the Charity Commission website.
Beyond the facts and figures are so many stories of people who were in hardship before generous donors offered their support. We are so grateful to have expanded over the years to reach this many people. Whether we are distributing emergency relief or tackling the root causes of poverty, we strive to spread hope and make long-term improvements to the local community. 
3. We have global teams – including in war zones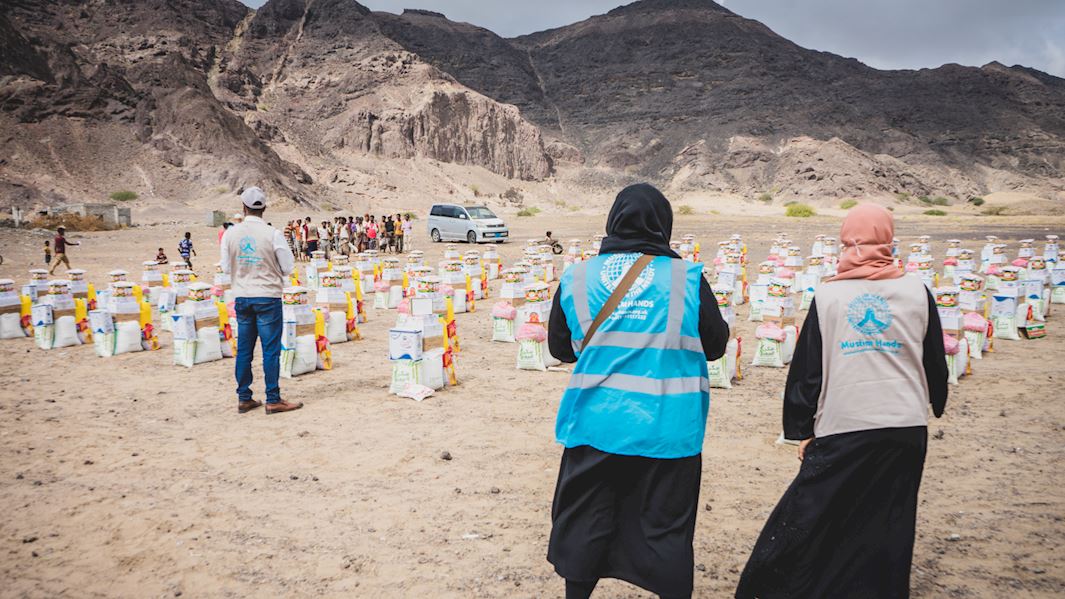 We have dedicated teams on the ground, to be your hands, delivering your aid to orphans, widows and vulnerable families. With established global offices, we can mobilise swiftly as soon as a crisis strikes, such as earthquakes in Turkiye and Syria, floods in Pakistan and droughts in Somalia.
With years of experience at hand, our country offices have the necessary knowledge and expertise to direct your donations to the right communities – where they are most needed.
Long-running projects in each community mean we can keep our fingers on the pulse and give people what they say they need.
For example, widows who send their children to our global Schools of Excellence let us know that they are struggling to find work – so we train them in sewing, raising chickens or running a small business. Another example is Motherkind, our maternal health clinics in Afghanistan and Somalia, where we offer home visits to accommodate new mothers who are unable to travel.
With worldwide infrastructure and experts in every office, we are grateful that we have the resources to solve people's problems in the best way for them.
Moreover, we are grateful to have access to emergency zones where few organisations can venture.
For example, Muslim Hands is one of the few charities to have access to Cox's Bazar in Bangladesh, the largest refugee camp in the world. With your support, we have set up vital projects to serve the Rohingya refugees, including running medical clinics, providing safe water, building shelters and distributing food. Our donors have also provided a children's centre for the much-needed safe space they need as children growing up in refugee camps.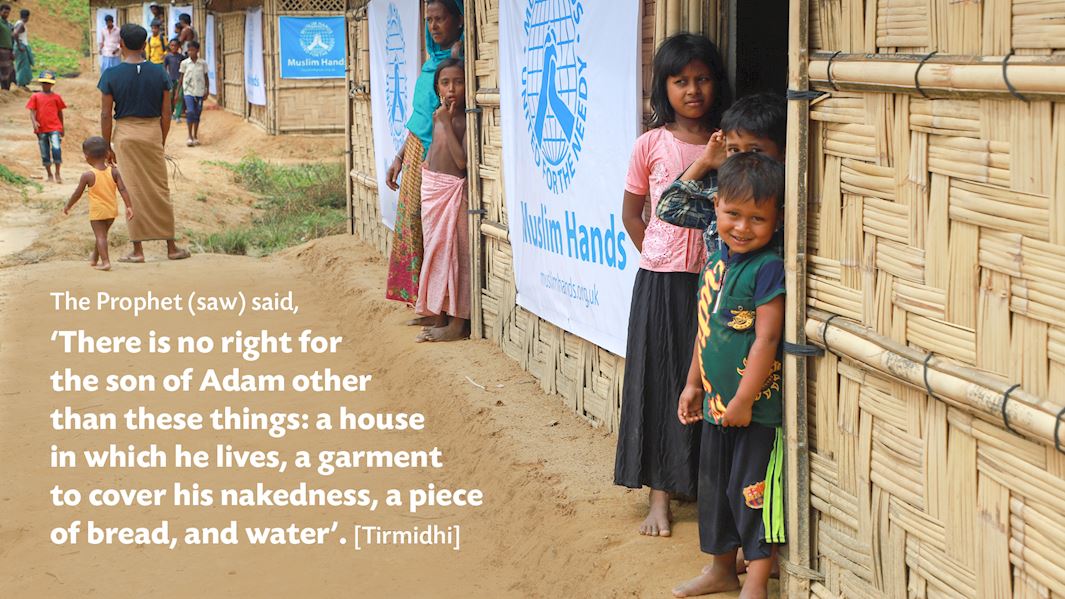 If we did not have strong infrastructure or experienced expertise, we would not be able to access places like the Rohingya camps. Alhamdulillah, we have the best of both worlds – at heart, we still have a grassroots ethos, but we also have the resources to take your Zakat and Sadaqah where it needs to go.
4. We have exclusive and unique projects
As well as access to emergency areas, we've also been blessed with unique opportunities to serve the Ummah!
Muslim Hands has been supporting the running of the Djenne mosque since 2008. The sub-Saharan Africa city has been a centre of Islamic learning since the 13th century. Along with the legendary city of Timbuktu, Djenne is the most important historic site in Mali, with the mosque being one of the most iconic landmarks in Africa. Our next phase of work at the mosque is the building of an Islamic school on the site, which is planned for next year. This will go a long way in preserving the knowledge that Djenne is known for, as well as increasing its spread around the region and beyond, in sha Allah.
Although there are many charities carrying out WASH projects across the world, our work in Yemen is completely unique. Even before the conflict, Yemen suffered from water-scarcity. Mass displacement and the deterioration of the country's infrastructure has made the need even greater. In Ramadan 2021, we began fundraising for a massive project in Aden, rehabilitating its infrastructure to provide water for LIFE to 1.7 million people. Ma sha Allah, our donors generously support this project and our Yemen team was able to implement it in 2022! We were also able to rehabilitate the water infrastructure in Ma'rib, providing clean water to over 1.2 million people. Our team is currently rehabilitating water wells and infrastructure across Yemen, benefitting thousands of families in Lahj, Ta'iz, Aden and Abyan.
We have more special projects in the Blessed Lands which you can take part in. Our bread factories in Syria and Yemen are run by Muslim Hands – rather than buying bread and distributing it, we have established factories which provide jobs while serving the most vulnerable people. Muslim Hands is also at the forefront of providing water for the people of Yemen – supplying water to entire cities, alhmadulillah. 
These unique projects in Palestine, Syria and Yemen are why so many people come to the Muslim Hands family. We know that our supporters urgently want to serve the most blessed people in the Ummah and we strive to facilitate that to the best of our ability.
5. We offer a personalised approach 
So far, we have talked about large-scale, multi-donor projects – running a bread factory in Syria or distributing food to Rohingya families. However, we also have that 'small charity' desire to help our supporters fulfil their personal wishes as they spend their Zakat and Sadaqah.
If you would like a personal charity project just for you: 
You can sponsor an orphan while receiving feedback. Many of these orphans attend our Muslim Hands Schools of Excellence where they receive a high standard of education, medical check-ups and even counselling. You will be a part of their progress right up until they graduate, watching them fulfil their potential over the years.
You can build your own water well with a plaque, from a range of costs. Whether you want to provide clean water for a family for years to come, or for an entire village, our teams on the ground can make that a reality. We dig thousands of new wells every year and each of these projects also come with feedback so you can see the smiles of those beneficiaries and what your donation has achieved. 
You can also sponsor a child with disabilities in either Yemen, Pakistan or Somalia. We are working with specialised centres that support their development and prioritise the need of the child.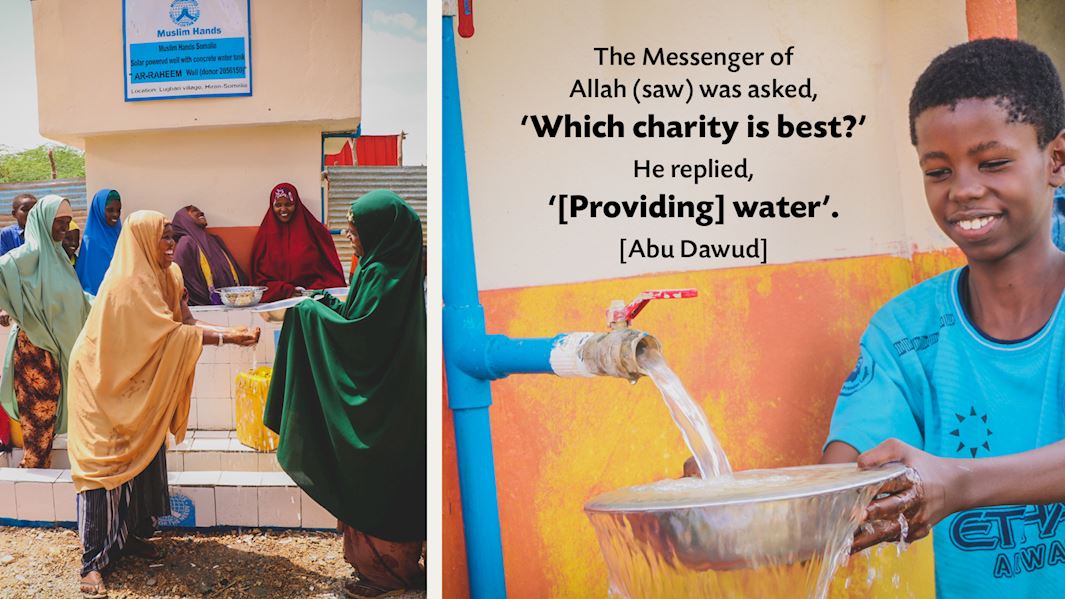 If you want to invest in an even bigger project – or if you have your own plan but you need experts to help you carry it out – our Major Giving team are ready to support you! They can help you build a masjid or a school, set up unique water projects such as rainwater harvesting systems, start running a health clinic or an eye camp and so much more. Your legacy will bring joy to people' to lives – on your plan and budget.
6. We are an award-winning charity
In 2019, we were glad to receive the Queen's Award for Voluntary Service – because it specifically recognised our volunteers and the incredible dedication. This is the highest award a voluntary group can receive in the UK. The award acknowledged our volunteers' efforts in tackling hunger through The Open Kitchen, which provides food to low-income families and homeless people in West London. (We have since opened a second Open Kitchen in Nottingham).
Our Founder and Chairman, Syed Lakhte Hassanain, has also been awarded Pakistan's Star of Excellence, which is the third highest accolade in the country. Our work has included the running of 200 schools, which has provided an education to over 60,000 orphans and children living in poverty. 
7. We create a range of Islamic resources for you
We pride ourselves on our commitment to an Islamic ethos. Our motivation for the work we do is for the sake of Allah. Be it through our email newsletters, blogs or social media content, we love to spread the message of Islam and inspire people to be better and more charitable individuals. We have created a tell all Zakat guide with everything you need to know, two hadith collections about Masjid Al-Aqsa and Yemen for this purpose, as well as designed Hilye posters, Ramadan storybooks and more.
We even have our very own podcast – Sunnah Stream – available on our platforms for anyone to benefit from and learn about the religion. Also, many of our projects are geared towards maintaining existing Islamic sites such as the Djenne Masjid, as well as establishing new mosques and schools for the future.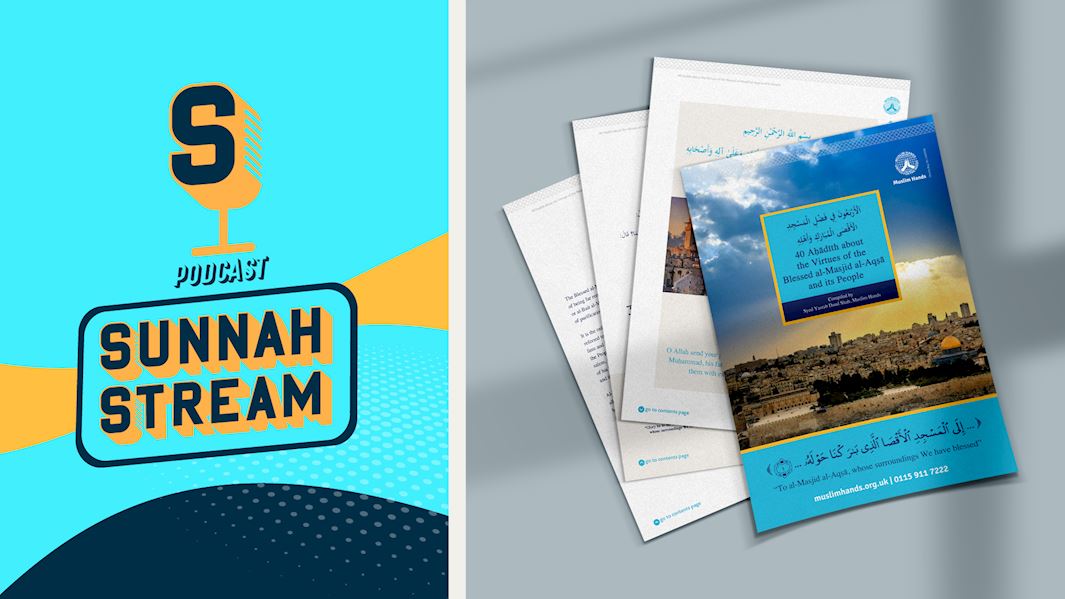 8. Beyond the 100% donation policy – we aim for efficiency and growth
We are completely open about how your money is spent. For every £1 you donate, 90p goes towards the intended cause, and 10p goes towards generating further funds. That 10p may grow to even more than that and be used to fund so many other projects, granting you a share in those rewards too. We do everything we can to reduce the costs of delivering our projects so that at least 90% of your donation will benefit communities directly.
Our admin costs are covered by Gift Aid, at no additional cost to you. We don't operate using a '100% Zakat donation' policy, and you can learn about the reasons why here.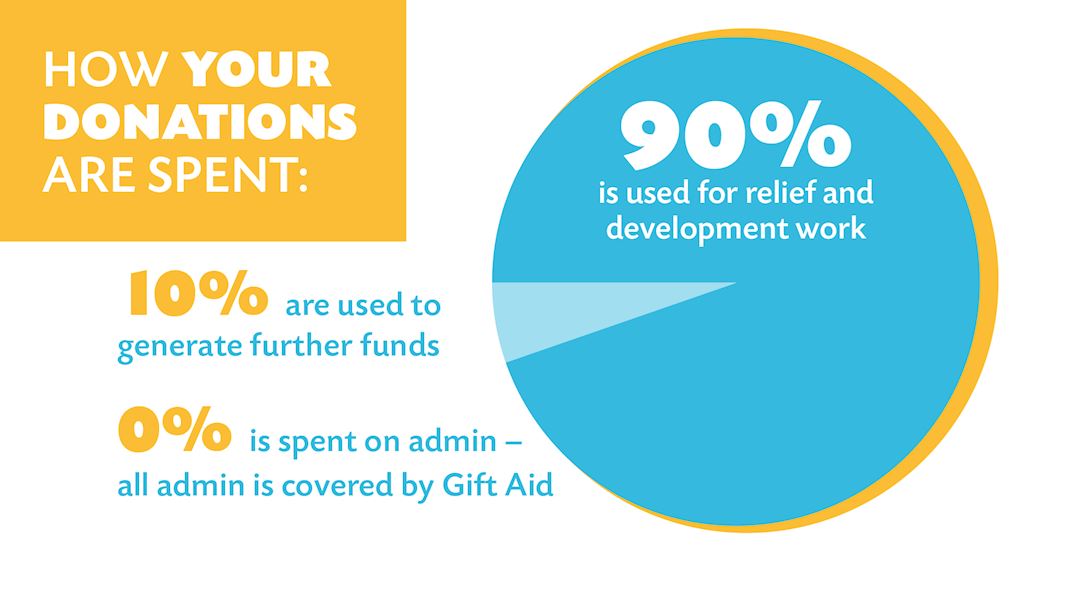 We deliver your donation in an efficient and wholly accountable way. For complete transparency, our financial reports are readily available here and on the Charity Commission website.
To summarise, with over 30 years of experience and dedicated teams on the ground, Muslim Hands can direct your donation to where it can really make a difference. We work in difficult-to-access emergency areas, as well as offering unique projects in Palestine, Yemen, Syria and elsewhere. Moreover, you can take part in a large-scale cause or set up your own personal project – it's entirely up to you! Above all, we dedicate our mission to Allah and we strive to deliver your amanah transparently and efficiently, always maintaining the dignity of our brothers and sisters.
If you're ready to join the Muslim Hands family – welcome aboard! We pray Allah puts barakah in everything you give, increases you in wealth and rewards you generously, amin.
---
Facebook

Twitter

Email This